How to apply XR for your situation?
Start hosting your business, from boardroom meetings, network events, festivals, hackathons, sprints and company training in XR. Discover the opportunities below in my latest TEDxTalk.

REMOTE WORKING & TEACHING IN XR
Technology is becoming better and less expensive every year. Hardware products like VR headsets become consumer products to buy (like printers) and with software, we democratize and digitize the things we used to have in our hands back in the 90s.

Did you know that a smartphone these days would have cost over 120.000 Euro if you would have to buy every 'app' today as an item, like a camera? What we see is that 60% of society will be able to afford a VR headset in the next 2-5 years due to technological improvements and cost reductions, as it has reduced 7x is the last year (from 2800 Euro for a VR headset with dedicated gaming pc towards 350 Euro stand-alone headset with similar quality and added functionalities, including speakers, microphone and AR camera's). What if next year we see another price drop of the hardware as production lines ramp-up, the software scales up to more users, cloud storage becomes cheaper and computer chips improve another 20-50% following Moores Law? That means that everything we see today as normal like remote working during COVID-19 with video calls that is nearly free will turn into this new medium XR (VR/AR) as it becomes even cheaper than having a laptop or smartphone and is now as portable and for lots of use-cases more functional in a remote learning and working environment.

Today weirdly enough we still learn from books in very traditional environments like office spaces and classrooms, while the kids are learning through playing videogames and research shows VR results in 4x faster learning than in traditional settings. We are here to change the traditional setting by bridging the gap, between generations, platforms and way of working towards XR.

THE REALITY OF GEN Z (12-23 years old)
With their 3D mindset, they master agility and adaptability but also problem-solving skills in a safe environment, just like we used to train people to go to Mars and train them in very expensive simulations, that is now affordable for many through playing immersive games and over a thousand universities are already using VR for their training.
Leveraging VR is one of the most promising shifts and it happens to be loved by over 90% of its users. From Playstation VR, towards high-end Oculus Rift, HP G2 Omnicept, Varjo and HTC Vive VR, If you look at a random VR video on youtube you will recognize how much fun and excitement it gives people and all is possible today with standalone XR glasses.

But what we like the most about VR is not just the fun element but the learning and collaboration element. Within seconds you are in a different world hanging out with colleagues and students from all over the world. In February I was happy to be invited by the biggest community in VR which happens to be an educators community called "Educators in VR" to speak at their annual summit in February 2020 and I took that chance with both hands. Now curriculum developers are replacing traditional exams with VR simulation practical exams. Underneath Dana-Maria Faneker is hosting me and I am speaking on stage to an open crowd of people that can freely walk in. Filmed by a Livestream film bot, jobs that were normally done in person were a lot smoother and cheaper online. Over 5500 people attended this summit week, coming from all over the world.

I have since then reduced the cost of organizing events like Campus Party from 1.5M Euro in organizational costs to just 10.000 Euro in organizational costs digitally while reaching over a million people with our content instead of reaching a maximum of 10.000 people in person. Examples of Tomorrowland (with over a million tickets sold last July) and Lost Horizon, with over a million viewers and thousands of people dancing in VR, show that digital immersive experiences are creating a new market, a new reality for event organizers. While Laval Virtual with over 10.000 visitors in their "second-life Campus" was entertained through pitch presentations of startups and boardroom meetings done in Engage VR and live-streamed to their non-VR Campus where all the networking took place.
IMAGINE THE POSSIBILITIES FOR YOUR ORGANIZATION OR SECTOR
We would love to help you reach out to your audience in this unique experience to kickstart your XR adventure. This can turn out to be the new normal for remote working or teaching, but also can be the new normal for your events. From personalized avatars and digital twins towards custom-made event spaces, stages and animations. You can still use your favourite PowerPoint and embeddable videos. We have successfully tested 35 augmented reality and virtual reality platforms and researched over a hundred new platforms in the last 3 years that we are more than certain that your situation in which you are looking into XR can be tackled by us.
EQUIPMENT REQUIREMENTS
Most organizations and schools already have the right equipment to get started. But before we start, we need to make sure that all those you wish to have in the virtual world have the minimum specifications below available and as this training can be fully taken online (with a combination of screen sharing and video calls) you only need to make sure that you have the following (plus an optional VR headset like the Oculus Quest) to get started in any of the preferred platforms we have to offer.
What can we offer:
Train the Trainer Course or Coaching on the job.
Get instructions that you can directly use to get started in VR.
We will train you to set up the VR room you wish to work in
We will optionally host the VR room for you so you can do your event without having to think about it and will be invited to the right space after logging into the VR space.
We will train you how to set up presentations, like PowerPoint with Youtube videos and use them in the virtual world.
We will explain to users how to interact and make notes/ make photos or record/Livestream the presentation or meeting.
We will leave you with the right setup and instructions so you can do it more often in various different settings. From boardroom sessions to company presentations to team activities, 1 on 1 coaching and big conferences. This will be your DIY – Train the Trainer in VR
Digital twinning services – a copy of your work environment in Virtual Reality to work together in.
We offer different types of training, for example:
CaptainVR coach/trainers training In the VR coach training you learn to apply VR in your own coaching practice. With the certificate, you distinguish yourself from other coaches. At the moment there are almost no coaches in the Netherlands who use Virtual Reality. You can distinguish yourself even more by becoming one of the first VR coaches! In the VR Trainer training, you learn to train a group of coaches to become a VR coach. This gives you the opportunity to work as a freelancer for Captain VR. Interested? Let us know! You will receive a certificate upon completion of the training.
INVR coach/trainers training The unique thing about this concept is that you never have to be physically present. Everything can now be done from your own living room, in a rather simple way. You will learn fun ways to continue your work and activities with small groups, large groups and individual people in an effective, fun and safe way. During this training, you will learn how to create a space in Virtual Reality that suits your needs. company and the needs of your clients. The training consists of 2 half-days of 3.5 to 4 hours of lessons and a final presentation of 30-60 minutes. You will receive a certificate upon completion of the training.
INVR event Manager training During this training you will learn how to organize an event in Virtual Reality. We explain how to create an avatar, how to explore environments in VR and how to give a good presentation in VR. The training consists of 2 half-days of 3.5 to 4 hours and is concluded with an aptitude test of 30 to 60 minutes. You will receive a certificate upon completion of the training.
XR Business Developer/ Consultant During the training for Business Developers you will learn which VR platform is suitable for which purpose. We support you in devising solutions for a (potential) customer and conclude with an exam. The training lasts 2 half-days of 3.5 to 4 hours and an aptitude test of 30 to 60 minutes. You will receive a certificate upon completion.

We have trained dozens of organizations like Rijkswaterstaat, Breman Installatiegroep, Jong Ondernemen, Seats2Meet, ICTU, Avans University, HKU, XIFEO, SuperWomenAcademy, Avans University and others into using XR in their daily work.
See below what it has led to for designing blended Education
Download our brochure in DUTCH or in ENGLISH.
DIGITAL TWINNING SERVICES
Your own workspace, atrium, terrain or office in Virtual Reality! We call that Digital Twinning. Using Photogrammetry, your business space is scanned and digitized, so that you can then collaborate virtually with your employees and colleagues.
Working here is safe and employees quickly feel at home in their familiar working environment. We have helped various organizations to digitize their work environment and lead Team sessions to learn how to co-work in Virtual Reality. This way of working is also interesting as a hybrid form. Employees can still participate in team sessions remotely at your physical location.

Contact us if you also want to have a Digital Twin made of your working environment. We work together with specialists in 3D scanning and host your environment on a certified Dutch server.
Below are some examples of our Digital Twinning:
Headquarters of Rijkswaterstaat NOVA – Shared coffee space with Subspaces for brainstorming, presentations, and events. Feel free to discover it yourself by reaching out to me.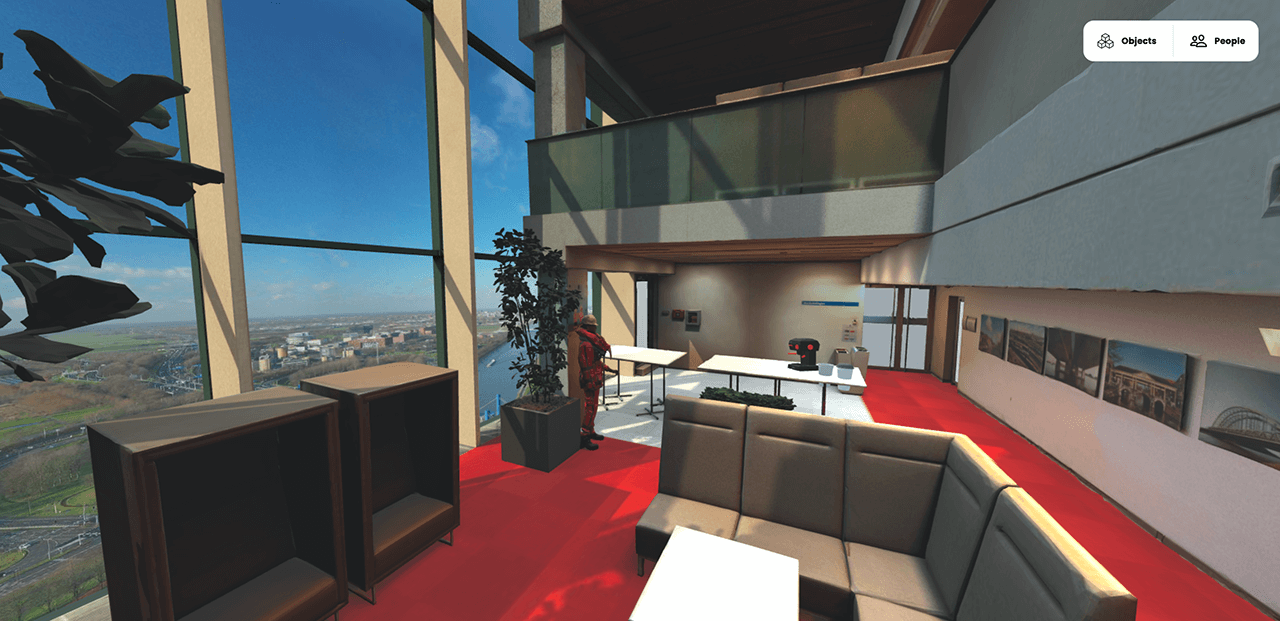 Boiler room Breman (BREiNN) Training space for colleagues and external workshops to train people in organizing energy-positive housing themselves.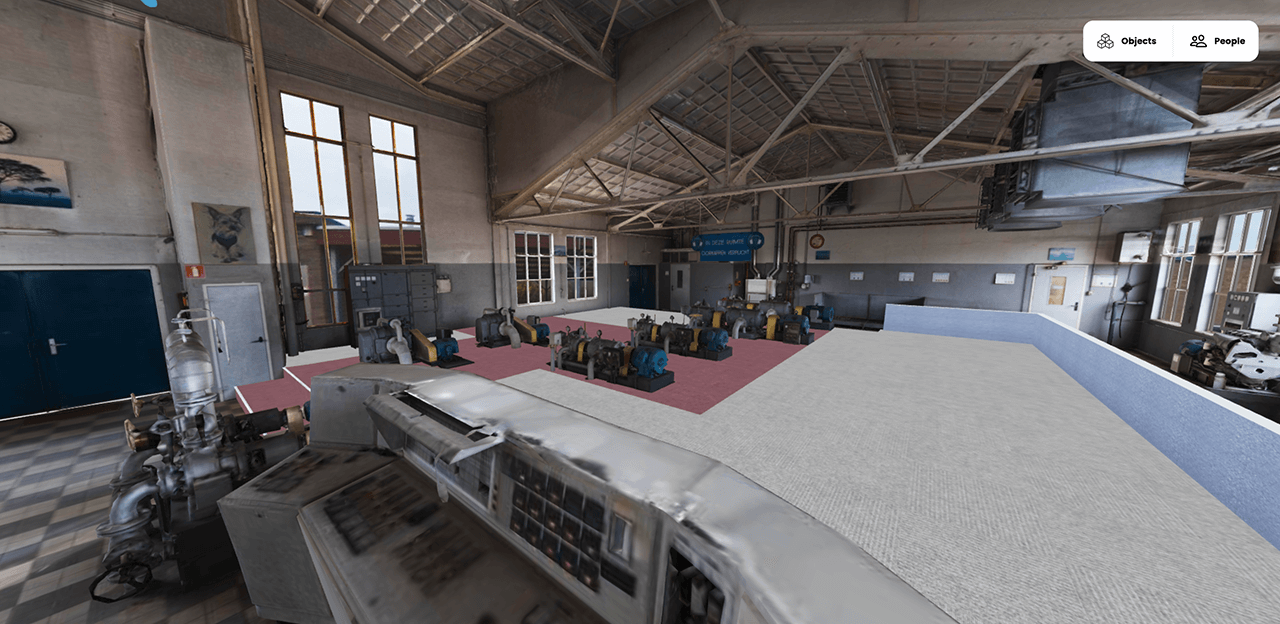 Seats2Meet Utrecht CS – Coworking hybrid both in VR and physical space, also used for renting out event space for groups of up to 50 people.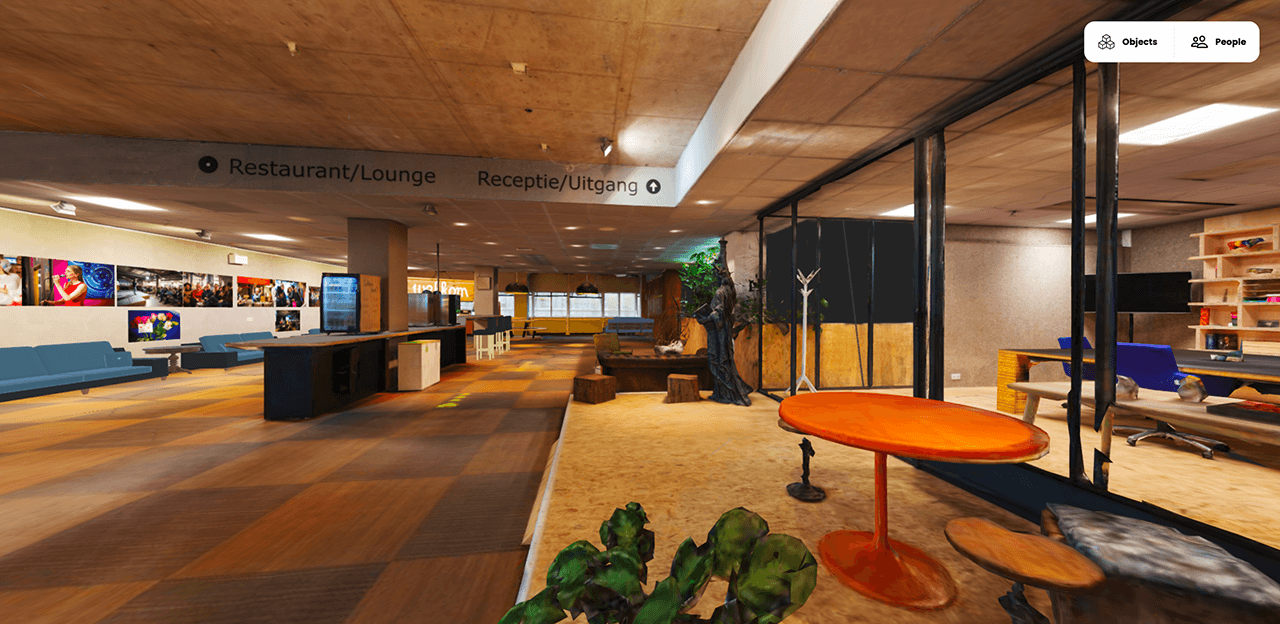 Start planning your appointment with us here to get started.
Download our brochure for Digital twinning
If you have done what you always did, you will never get the same amount of output anymore. Standing or sitting still is not productive any longer, VR makes a healthy movement part of the solution

Nick van Breda
VR TEAM ACTIVITIES – STAY FIT
Learn how to dance, (table)tennis, bowl, kickbox, shoot bows or paintballs and become a true Star Wars lightsaber fighter. In VR people train thousands of students simultaneously due to being connected to the world. Want to have any of the sports on your event as a great way to introduce the technology and wake-up people.
Want to have your own VR event with an epic program for your staff – Download our brochure here
Book us as your company entertainment crew with our inspiration tables.
Set a date in our calendar so we can call you back.
These services above are offered by Nick van Breda Consultancy. For custom requests, we also work closely together with
Dana-Maria Faneker from CaptainVR, Werken-in-VR to host custom WebVR rooms on Dutch servers and 360fabriek to further create real-life environments and digital twins in VR.

Happy to help you out with your needs.

Call us anytime on: +31 639895302